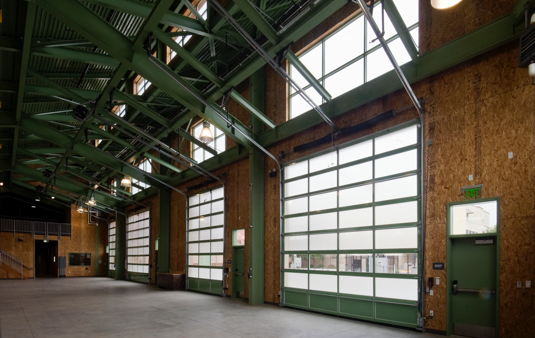 Superior Door Selection
---
Our top-performing doors are attractive, strong enough to endure repetitive operation cycles, and fairly priced. From one business to another, we strive to carry the best brands in the industry so that you can thrive. Browse through our selection of products tailored to the heavy-duty industries that make us proud to be your choice of professional commercial door installers.
Commercial Door Service
---
We know your business needs to run smoothly. Fimbel Garage Doors offers 24-hour emergency repair for commercial customers. If you're in a jam, call Fimbel at: 1-800-556-9786!
Sectional Doors
Warehouses, factories, service stations, and any other industrial facilities will have a clean and professional appearance while staying insulated with our sturdy overhead sectional doors. Our selection is tailored for the daily needs of your business with long-term endurance in mind. Our sectional doors are sturdy, strong, and ready for vigorous use or weather.
Sliding & Rolling Grilles
Our sliding and rolling grilles provide excellent separation inside buildings comprised of multiple departments or units. These manually push/pull doors will section off desired area with subtle division and provide a locking option for additional security. Sliding and rolling grilles are convenient for malls, warehouses, factories, schools, and a number of other business.
Roll-up Doors
The uses of roll-up doors are extremely versatile and provide a number of custom options. Roll-up doors are gaining popularity in the restaurant industry and are occasionally used inside buildings for a modern aesthetic or in lieu of sliding or rolling grilles. Our roll-up doors are most typically used in industrial environments and are built to withstand vigorous climates and endure daily operations.
Storage Shed Doors
Our line of storage shed doors is ideal for light duty use, such as self-storage, institution and recreational facilities storage, and some commercial businesses. We offer colorful choices with a clean and attractive appearance. These doors are durable and easy to use, and even easier to install. Our storage shed doors are highly convenient, practical, and intact with a quick installation from Fimbel Garage Doors.
Loading Dock Equipment
Alongside our high-quality commercial overhead doors, we also offer exceptional loading dock equipment to complement our services. Our weather-shield and insect control systems are heavy-duty and will protect and provide industrial support. Our truck restraints are simply designed, easy to use and most important, highly efficient. For direct dock equipment, we supply: dock levelers, bumpers, seals and shelters. You'll find that all of our loading dock equipment is industrial-grade and represents our highest standards of quality products.
Commercial Door Openers
Fimbel sells, installs and services commercial door openers that promise security, performance, and reliability—from purely functional motors to technologically-advanced openers that will communicate with smartphones or computers. Trust our expertise to provide your business with the best solution for your industry and applicatiion.